Jerash
The city's golden age came under the Roman rule and the site is now generally known to be one of the best preserved Roman provincial towns in the world, hidden for centuries in sand before being excavated and restored over the past 70 years.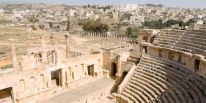 While visiting Jerash, you can see the colonnaded streets, soaring hilltop temples, theatres, spacious public squares and plazas, baths, north & south theatres, fountains and city walls pierced by towers and gates.
 In Jerash you can also experience the Roman Army and Chariot (RACE), featuring Roman army warfare techniques, including war machines in action and gladiators and seven lap races with Roman chariots. It will be featured in realistic racing, so as to bring to life events known to have resounded within this historic arena.
The show is on twice a day from Saturday to Thursday at 11am and 2pm (except Tuesdays), Friday has one show only at 10am.
Take a Jerash Tour to learn more about this wonderful city in Jordan.